Once upon a time I had one little girl and we spent lots of time crafting and making super cute projects together. THEN little girl #2 came along and everything went out the window. Crafting with Zoey is a bit of a challenge so we try to stick to just crayons and stickers when she is awake but the minute she goes down for a nap Madison is itching to get in the craft closet. Of course I love to comply with her request to get creative but with a limited amount of time digging through the closet and coming up with a project takes too much time.
When Mom Select contacted me about reviewing some adorable craft kits by
Creativity For Kids
I jumped at the chance. Pulling out a kit with all the necessary materials and tools makes our limited craft time that much easier. Maddie and I had a chance to try out three super cute kits:
The
Tile Art Necklace kit
(retail $15.99) was super cute and Maddie had a great time crafting her own ceramic tile necklaces that she plans on gifting this holiday season. This kit was geared towards 8 and up so a bit of daddy help was needed for a few parts. The kit includes scissors and glue which was a nice perk along with some adorable boxes for gifting the necklaces.
No we did not bust into all of the craft kits on the same day... Maddie just REALLY likes that
dress!
The
Deluxe Glitter Art
(retail $29.99) was slightly intimidating for me but Maddie kept her messes at bay with a tray. The kit includes all sorts of goodies like glitter, glitter glue, adorable gems and everything else needed to craft greeting cards, trinket boxes and gift tags. Thankfully Maddie was able to work on this project a bit more independently while I cooked dinner so I didn't need to gasp at every stray piece of glitter that ended up well... everywhere! Glitter and girls just go together!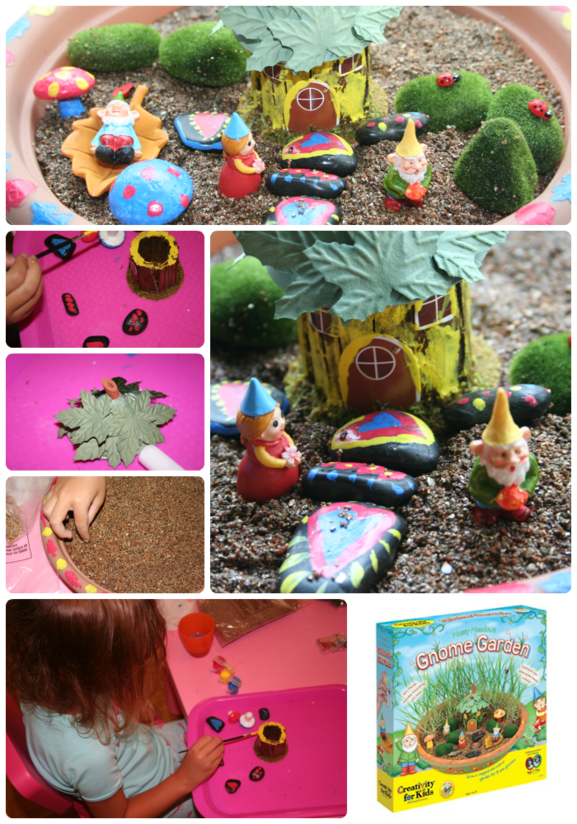 By far Maddie's (and my) absolute favorite kit was the ridiculously cute
Mossy Meadows Gnome Garden
(retail $29.99). The kit includes everything needed to craft an enchanted for the the 3 included gnomes and any other stray dolls and fairies that find there way into the garden! Maddie and I spent 2 days painting and gluing all the pieces together before finally assembling the garden. Maddie is know oh so patiently waiting for her grass to grow.
GIVEAWAY!
Now you have a chance to win 2 super cute Creativity For Kids craft kits! Both the Deluxe Glitter Art kit and the
Beach Buddies Shell Craft Kit
can both be yours! To enter please use the Rafflecopter widget below. This giveaway is open until Thursday August 30th and you have 3 great chances to enter!
Disclosure: I received free products as part of a promotional program with MomSelect. All opinions and glitter messes are my own.