VACATION!!! It happened! It really happened!
With 2 kids and my husband's crazy schedule vacation is something of the past. Yes we do travel home to Connecticut which is always wonderful but as for a vacation with a destination other than home, with planned events and sight seeing.... this was our first as a family. It was FANTASTIC!
With a great amount of planning, secret keeping, packing (oh my the packing) we boarded a plane in Virginia and took our girls across the country to sunny California. If you follow me on Twitter you know the journey was rough. Delayed flights and canceled flights are not pleasant with two young children but we made it!
For the past year we were surprisingly able to keep a huge surprise from Madison. All she knew was vacation would be at a beach house in California not that a large chunk of her family would be there! Grandparents, great grandparents, aunts, uncles and cousins greeted us at the beach house and she was over the moon. Our week was so packed with activities we didn't actually spend all that much time at the beach, oops!
Our first day they we brought the girls to a local playground in Laguna Beach that they just adored. It was a fantastic playground for the girls to play and for hubby and I to finally relax after a very long trip.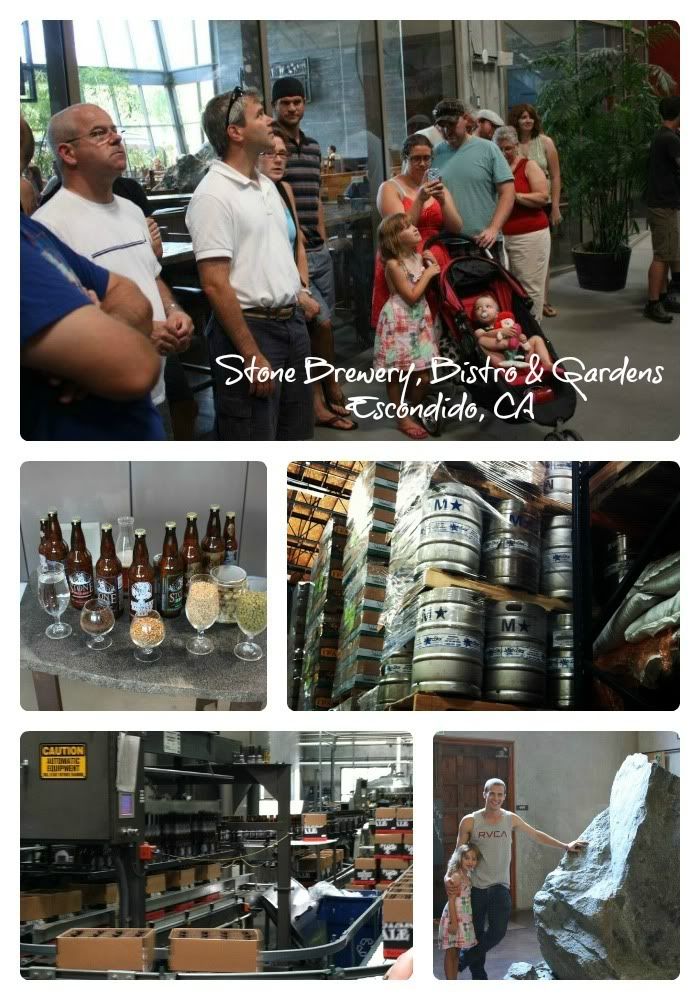 My husband and step father were thrilled to discover we would be staying not too far from there absolute favorite brewery so of course with kids in tow we headed to
Stone Brewery in Escondido
. I don't drink beer but I will say the tour was pretty cool and informative. The kids were incredibly well behaved through the entire thing too. On the same grounds as the brewery is a fantastic restaurant and (supposedly) some very cool gardens. It was too darn hot last week to actually walk through the gardens though. I can vouch for the delicious food though! The patio was gorgeous, the food was amazing and from what I hear the beer is spectacular!
With so many
babysitters
family members in the house hubby and I were able to escape one night for a date too! I had some fantastic short ribs at
The Bistro K
in Laguna Niguel and then we spent the evening walking along the San Clemente Pier. It was gorgeous and fantastic and romantic and well I am a bit nostalgic... it was vacation at the beach folks!!
I have a ton more pictures to share with you from the rest of our trip so will be back again tomorrow!